AAMP!itude


---

Asian / Asian American Music

Introduction
[Note: The part of this site that's constantly updated is the calendar of events... The calendar tries to cover gigs and such in North America (CA, US, MX)]


Site coverage: contemporary music by Asian Americans (and Asian Canadians)... also contemporary music influenced by Asia.

The reviews on this page were mostly written for a DC-area 'zine called, AAMPLITUDE. It was put out by Asian American Arts & Media, Inc., a non-profit organization that existed from the early 80's to mid-90's.
As a collector of Asian American recordings (lp's, cassettes, cd's) I had the opportunity to play some of this music on my Asian American radio show, "Gold Mountain." For many years, the magazine-like program aired on WPFW 89.3 FM, the DC community station owned by Pacifica. (And I should add that this site has some coverage of radio about Asian Americans, things heard over the air, and other encounters with radio.)

Meanwhile, I, eventually, hope to explore the notions of Asian American music -- what it might be, whether there is a viable "Asian American aesthetic", and how it fits into the musical categories one runs into.
Go to:
Cibo Matto / VIVA! La Woman / Warner Bros., 1996
This album grows on you. Upon first listening, it seems rather chaotic, like hip hop thrown in a blender with acid jazz. Certainly nothing you can hum along with. But try again, and the quirky elements gradually reveal their charm and the pieces take shape. You start to recognize that Chinese is spoken in the background on the first cut. You begin to get used to the sudden transitions from a throbbing beat at one moment to a dream-like passage the next.
Cibo Matto is a Japanese expatriate female duo from New York. Miho Hatori's vocals, sometimes heavy with accent, run the gamut from whispers to shrieks. Yuka Honda brews a masterful mix of sampled urban sounds and music from jazz orchestras and movie sound tracks. Added to that are horn lines, a funky bass, shimmering synths, a squawking guitar, and various voices that weave in and out.
The album's food theme binds the disparate sounds together. Each cut deals with some aspect of food or eating or cooking. Indeed, the name of the group (pronounced CHEE-BOH MAH-TOH) means "food crazy." Nonetheless, the lyrics deal with more than gastronomy. Although many phrases are non sequiturs to one another and thus open to interpretation, it's evident that some songs deal with desire and relationships.
Should you get this album? Well, the flavors and textures may not be for everyone's tastes (just like some people may not like tripe, broccoli, or anchovies). On the other hand, the sonic concoctions expand the listener's aural palate, thus making "VIVA! La Woman" a significant release for urban pop music in the 90's.


Ali Akbar Khan / Legacy / AAAMP/Triloka, 1996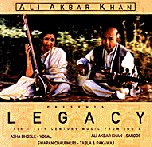 Leading an ensemble playing Indian instruments plus cello, Ali Akbar Khan (acknowledged master of the lute-like sarode) performs pieces written hundreds of years ago and passed down through many generations of music teachers directly to him.
The album's title, "Legacy; 16th-18th Century Music from India", is a clue that this is not for novices. The liner notes reinforce this impression. The descriptions or each piece are sketchy and assume that the listener already has a background in Hindustani (North Indian) classical music.
Most of the pieces are not of the sort with breakneck tempos driven by pulsating tablas (hand drums), the kind that would excite the uninitiated listener.
What makes this album special is that it marks the first Hindustani classical collaboration between Ali Akbar Khan and the celebrated Indian film singer, Asha Bhosle. They'd first worked together over 40 years before on a Bombay film.
For aficionados of Indian musics, this novelty would be enough reason to pick up a copy of the album. Others might find many of the pieces boring or inaccessible, and might not be patient enough to appreciate the popular singer's mastery of the material, as she matches the microtonal quavering and swooping glissandos of the instruments.
[According to Hindustani tradition, each piece or raga is meant to be played at a certain time of the day and a certain season of the year. Each raga is supposed to be associated with a particular mood.]

Tetsu Inoue / World Receiver / Instinct Records, 1996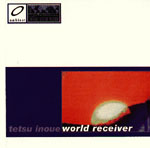 Weaving a wide variety of electronic and found sounds into a flowing river of ambient music, Tetsu Inoue has created a rewarding album for the patient listener.
According to the liner notes, the artist recorded environmental sounds around the world, in places like Pakistan, Thailand, and Germany. The sound excerpts are anonymous enough that even without processing and mixing them with electro-acoustic sounds, there's no way to tie them to a particular place.
Some of the electronic sounds are reminiscent of electronic music of several decades ago. Inoue uses a digital delay machine to impart a throbbing, pulsating quality to many of his electronic sounds, giving an organic feel to the pieces and meshing well with the gradual ebb and flow of environmental sounds.
(Given these tempos and rich textures, "World Receiver" could easily lend itself to combination with modern dance or tai chi chuan. Indeed, at the start of Inoue's career, he created music for a modern dance company.)

Lee Pui Ming / Strange Beauty / Dorian, 1994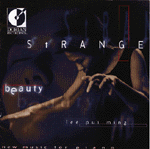 This solo piano album by Chinese Canadian, Lee, Pui Ming, could be best categorized as improvisational music drawing upon elements of classical and jazz. Her study of classical piano, (i.e., technique and music theory) has allowed her to explore the piano in ways that others have only hinted at. (It's interesting to note that, for several years, she was a doctoral student at Catholic U in DC.)
Some passages in her music are reminiscent of late Romantic piano music with its rumbling left-hand runs, while other passages are derived from Chinese folk melodies. Oftentimes the very slowness and softness of her playing (as when she plays single notes) renders the identification of influence irrelevant.
The intensity of her playing and her music is apparent from the wide dynamic range and changing tempos. While her keyboard virtuosity allows for some casual listening, her intense performance and her wide-ranging coverage of musical ideas (changing scales, modes, and tonality) can overwhelm the careful listener. (In the latter case, listening in rationed doses is advised.)

Far East Side Band / Urban Archaeology / Victo, 1996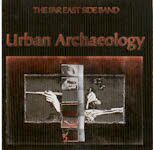 On one of the formost improvised music labels, the second album by the Far East Side Band adds the mellifluous tuba playing of Joe Daley to the trio of Jason Hwang (violin), Yukio Tsuji (percussion and shakuhachi), and Sang Won Park (kayagum and other Korean instruments). Yet this album is not a mere duplication of the earlier one plus tuba. As composer of all the pieces, Hwang has incorporated new technological capabilities (electronically-processed tuba and violin), as well as the musical personalities and evolving improvisational capabilities of the musicians.
At times the music ranges from East Asian traditional music solos to what one might loosely describe as "Asian Dixieland jazz." Most often, the band is exploring uncharted territory. What's particularly interesting is how the timbres of the different instruments blend. Hwang has shaped some striking and novel textures, while ensuring well-balanced sound levels in the recording.
In this kind of music, it is often as important to listen to the spaces around the beats and notes, as it is to listen to the sounds themselves.


Soul Bossa Trio / Soul Bossa Trio / CuBop, 1996

There's a retro feel to this release that is signalled by the cover design that seems descended from jazz albums of several decades ago. While some might claim this under the acid jazz category, the music can get zesty with Latin percussion, swing like the Ramsey Lewis Trio, or suavely percolate like Brasil 66.
This album is a compilation from the first 2 Japanese releases by the Soul Bossa Trio, a group from Tokyo. It seems shorter than its brief 39-nimute length, since all the songs or pieces are finger-snapping, uptempo numbers.
While the trio is led by drummer Gonzalez Suzuki, with Toshi Matsumoto on keyboards and Shingo Takemiya on bass, session musicians on vocals, percussion, electric guitar, horns, etc. are not identified. While the lack of this information doesn't detract from the listener's enjoyment, it tends to lend an aura of mystery (or confusion) to the release. So, too, is the existence of an unidentified piece on the CD between the ninth and tenth cuts listed.
Nonetheless, this compilation is a most welcome and groovy issue by a new Latin jazz label.