Picture Gallery IV
(best viewed in a dark room)
[If you're unable to darken the room, then cup your hands around each picture.]
---
Home Grown


(from Orange, CA) left to right:

John Trash - guitar, vocals
Bob Herco - drums (barely visible in back)
Adam Lohrbach - bass, vocals
Ian Cone* - guitar, vocals

August '98, 8 x 10 club, Baltimore
*Left the group, months later, and was replaced by Justin Poyser.
---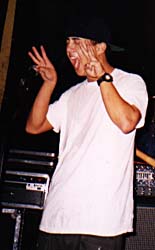 guitarist Johnee Trash (née Tran)
clowning for the camera
and flashing his O.C. gang signs
Not Another Israel Blog | Sub Judice | Postmodern Potlatch | Retirement Planning | Toronto Web Design | Cheap Hotels Travel | Article SEO Writers
---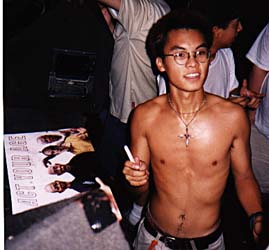 drummer Bob Herco signing posters

NOTE: In January, 1999, he was operated on for a brain tumor, and is now undergoing chemotherapy. While he's recuperating, Damon from the band River Fenix is subbing for him.
---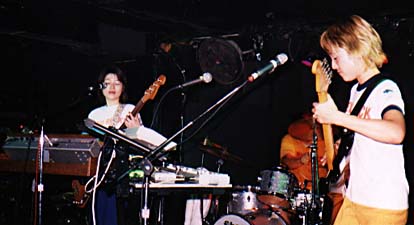 Buffalo Daughter
(from Tokyo)

Fletcher's club
Baltimore
September, 1998

Yumiko Ohno (left), unidentified drummer (center), Sugar Yoshinaga (right)
---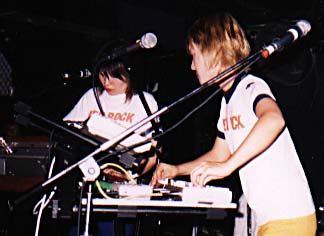 Yumiko and Sugar operating their synthesizers.

(Sugar is twirling knobs on a Roland TB303.)
---
Sugar playing guitar

(Notice the row of effects devices at her feet.)



---
Thanks to Wendy Lim for scanning help
---
Return to: