Fred Ho
Now and Then

a brief look at a revolutionary fashionista



---
March 2004 / Boston

Making a point.

(and a fashion statement!)
---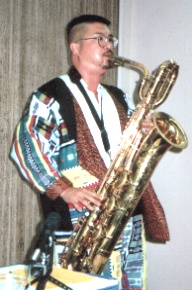 Summer(?) 1992 / DC

(Possible caption for this photo:
"Fred and the Amazing Technicolor Dreamcoat")


---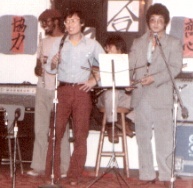 October 1979 / Boston

Fred (right) is dressed-up and ready to play.

Speaking (left) is probably Michael Liu.
---
The event was at or near
the Asian American Resource Workshop
in Boston's Chinatown.

(Notice Fred's tinted glasses and bouffant coiffure.
One can't tell if he's wearing gold chains around his neck.
But there's enough style to suggest that,
back in the day, Fred was a bit of a "playa".)
---
All this sartorial splendor makes one wonder what Fred wears when he's chillin'. (Caution: The following may not be appropriate for underaged viewers.) Click on ? to find out.