Go to:
2 December 2000 -- Bought some publications and records at the annual Peabody music school library's booksale in Baltimore. Among the items I picked up were
a collection of simple piano pieces by Vanraj Bhatia, titled "Indian Nursery" (for piano duet), published in 1956 by Novello in London
a pamphlet of notes of meetings of the International Music Congress, September 6-15, 1968, that were held in New York and Washington, D.C. (Participants included several from Asia (e.g., Japan, India, Indonesia, and Korea).
a 1982 report of the College Music Society, titled "Racial and Ethnic Directions in American Music". The pamphlet includes a short section by ethnomusicologist Hiromi Lorraine Sakata titled "Asian-Americans and Music in Higher Education".
Listening to "Prairie Home Companion" this evening on an NPR station, I heard some Indian sounding music. It turned out to be Chris Rael (sitar) and Deep Singh (tabla), members of the NYC-based group, Church of Betty. Apparently, they've been playing (busking) in the NY subway, and were one of the subway music groups featured on that particular show.
---
30 Dec 2000 - Toured the "On Gold Mountain" exhibit at the Autry Museum in Griffith Park in L.A. I saw many interesting artifacts related to Chinese American history in the U.S., California, and Los Angeles. (The exhibit is based on a book of the same name, a family history, by Lisa See.)
On display were 2 Chinese instruments, namely a tortoise shell erhu or hu-chin and a pipa. A folding pump organ (a keyboard instrument) in another display case illustrated one of the activities that Christian missionaries may have engaged in L.A. Chinatown at the turn of the century.
Moving forward in time, there was also a tabletop radio (circa 1940, "Dictograph Silent Radio") with a bakelite shell and a 12" album jacket of a Wu Tang Clan release, "Wu Chronicles" ('99). The caption for the jacket read: "Wu Tang Clan was the first hip-hop group to introduce Asian motifs." (Hmmm. I wonder why they didn't include Carl Douglas' album (circa '74 or '75), "Kung Fu Fighting".)
---
1 Jan 2001 - Ah, finally the real New Millenium! I attended the celebratory ringing of the Korean bell in San Pedro. This mammoth bell is housed in a shrine atop a bluff overlooking the Pacific Ocean and L.A. harbor (in the vicinity of the Point Fermin lighthouse). It's rung for New Year's, July 4th, and Korean Independence (mid-August). It is patterned after the Bronze Bell of King Songdok (which was made in A.D. 771), and is "the largest Oriental bell in existence" [according to a brochure I picked up somewhere]. It's made of 86% copper, 13% tin, and traces of gold, silver, nickel, phosphorus, lead, zinc, iron, and antimony.
Officials gathered for the occasion included the Korean Consulate General (Mr. Kim) and the honorary mayor of San Pedro (Dennis Lord). Other organizations involved included the San Pedro Historical Society, the Korean Marine Corps Veterans Association, and the L.A. Korean Federation.
The shrine was built in 1976. White -haired and -bearded John Olguin, of the historical society (and a retired director of the nearby Cabrillo Marine Aquarium), told me that he'd been involved in the ringing ceremonies from the start.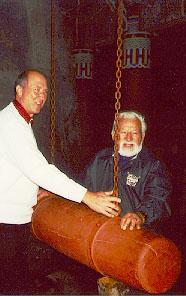 He plugged the Polar Bear club's annual dip into the cold Pacific Ocean at Cabrillo Beach later that day at noon. He claimed that the event attracted 300 participants. It seems the only requirement is that you have to be crazy enough to want to freeze your ass off. (Although compared to other parts of the country, this is very mild stuff. Southern California Polar Bears would be considered wimps elsewhere.)
I also spoke with the honorary mayor. It turned out that he is a public relations person for Southern California Gas. I ended up interviewing him about the current energy crisis in California, that involves utilities, power plant owners (corporations like AES and Dynegy), Governor Gray Davis, the Federal Energy Regulatory Commission (FERC) in Washington, D.C., and, of course, the suffering consumers.
While this has no seeming direct relevance to music, think again. If electricity had to rationed, if the use of electricity had to be substantially reduced, that would certainly favor music-making by unamplified acoustic instruments and voice in natural light. (Unless one wishes to play or perform in the dark.)
Maybe it's time to start thinking about solar-powered computers. Or how about a wind-powered web?
---
13 Jan 2001 - It was an evening of improvised music at the intimate environs of MOCA (Museum of Contemporary Art), a gallery in Georgetown (DC). Playing were Vattel Cherry (acoustic bass, Baltimore) and Toshi Makihara (percussion, Philadelphia) with 3/5 of a local ensemble, Gray Code.
Makihara had returned last week from Japan, having spent the holidays with family near Tokyo. He managed to perform a few times while he was back, there.
The 5 musicians, that evening, played together in different combinations. The 3 locals started off. Then Makihara and Cherry performed. Then they all played together.
I'd seen Cherry play before, but never with such a wide range of manipulation of his instrument as he displayed when playing in duo with Makihara. He plucked, bowed, bowed it below the bridge, beat it his open hands, rubbed it, stuck his bow between strings, and more. At times he yelped and yodeled in tongues. I thought to myself, 'finally, someone who can match the wacky virtuousity of Mackihara!'
But Makihara was without most of his noisemaking paraphenalia. He told me that he's getting away from that, and paring down his percussion instrumentation to something quite basic. (I hope he will, occasionally, bring back the Wiley Coyote stuffed animal.)
---
14 January 2001 - Having missed Cigarbox Planetarium this past summer, I decided to make a special effort to catch them performing in their local club, Galaxy Hut, in Arlington, Virginia. Andy Charneco (guitar) and Deanna Pineda (keyboards) played a mixture of covers and originals that harkened back to a simpler time when the word, "party" was not used as a verb. (Think about it.)
Gosh! I heard renditions of movie themes like "Midnight Cowboy", "Fistful of Dollars", and one of the James Bond flicks. They mixed in the novelty pop hit, "Baby Elephant Walk" and the Antonio Carlos Jobim song, "Wave." I bet that most of these covers predated most of the patrons at the club. Some of the duo's equipment might have, as well. CP were using:
Univox drum machine
Jazzmaster guitar
Fender Vibralux reverb
Casiotone 202 keyboard
Hammond XB2 keyboard
Pro 3 - Motion Sound (like a miniature Leslie, generating a wooshing sound)
---
2 February 2001 - Interviewed Toronto singer/songwriter, Emm Gryner, after her performance at the Iota club in Arlington, Virginia. She'd brought her mother along on this trip to DC which seemed like a nice thing to do. (Of course, there can be disadvantages to traveling with one's mother, but if the touring schedule is light, then it might be worthwhile.)
---
3 Feb 2001 - Went to an afternoon concert given by a local DC Middle Eastern group, the Anwaar Band. This was at the Smithsonian's Ripley auditorium. Afterwards, I asked the leader, Adel Kadi (a violinist originally from Egypt in his 60s or 70s) about a bowed instrument I'd sketched in my notepad. I'd sketched it from a 1850 photo taken in Egypt, that I'd noticed about a month ago in an exhibit of early travel photos at the Getty Museum in L.A. He told me that the instrument I'd sketched was called a rababa. He then proceeded to describe how you could make it yourself (as he had done) using a coconut shell as the sound cavity.
This evening, I went to a benefit concert for Gujarati earthquake relief and CRY (Child Relief and You), a fundraising organization for charities in India. I was one of the few non-Indians there at Shriver Auditorium at Johns Hopkins University in Baltimore. Performing were the ARTH theatre group from Georgetown U, 5 Little Indians (acapella quintet) from Philadelphia, and Penn Masala (acapella) from the University of Pennsylvania.
5 Little Indians seem to be a recently-formed group (judging from their somewhat shy movements), and sang doo-wop and other songs in English. Penn Masala had twice as many (11 members, to be specific), and drew upon a large repertoire of songs in Hindi and English... At the intermission, the lobby was filled with mingling young desi's (probably mostly of the ABC variety). What struck me was the lack of interest in the information and donation table. Perhaps few were interested in finding out more about helping poor kids in India, or running the risk of being asked for contributions. (Or maybe they're inured to it.) I've seen it before, the lack of response by hedonists to altruistic activities. It's not an easy thing to catch the attention of a socializing throng fueled by hormones.
---
4 Feb 2001 - At Emm Gryner's gig at the Metro Cafe on 14th St. in DC, I snapped quite a few photos. (I hadn't been able to get into position to do so at the Iota club gig, due to my late arrival and the packed crowd.) Where she was the opening act at the Arlington gig, this time she headlined and seemed to have quite a few fans in the audience. Before the show, I talked to one sitting next to me, who'd seen her on tv on Friday night. Apparently, Gryner had taped a song at the WNVC-Channel 56 studios, Friday afternoon, which was broadcast that evening on the station's local music show...
Inbetween songs, a woman's cellphone chirped. The woman answered, and Emm was distracted from her train of thought. (Or maybe she was trying to figure out what next to play.) In any event, before you knew it, she'd playfully borrowed the phone and started talking to the fellow on the other end. "Jess, where have you been? I've been trying to reach you all day!" The guy was probably puzzled as to who was pulling his leg. She identified herself, told him that he'd called during her show, and that 'he'd better get down here'. Perhaps he needed more convincing that Emm was speaking truthfully. She turned the mouthpiece of the phone to face the audience, and they erupted in noise...
---

or...