Go to:
---
24 Jun 05 - "Cosmic Drift" event, Visual Art exhibit, Hirshhorn Museum, Wash.,D.C.
---
18 Jul - Leprechaun Catering (Tom Boram & Jason Willett); Yoshida, Tatsuya; and FootFoot Stone (Jake Freeman) - Red Rm., Baltimore
---
21 Jul - Trio Tarana, Meyer auditorium, Freer Gallery, Wash.,D.C.
---
23 Jul - Susan Alcorn (pedal steel guitar), Tatsuya Nakatani (percussion), and Audrey Chen (voice, cello) - Red Rm., Balt.
---
5 Aug - bettysoo - Chez Lafitte, Easton, Md.
---
14 Aug - Korean War Memorial Concert, Millennium Stage, Kennedy Center, Wash.,D.C... performance of a 19-part suite, Songs of the Forgotten War and a programmatic chamber work by Hee Sun Yoon, Korea in the Eyes of Higgins.
---
20 Aug - Kiran Ahluwalia, Millennium Stage, Kennedy Ctr., Wash.,D.C....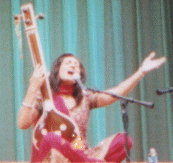 (If no ecstatic light movement, then please allow pop-ups on your browser to see the lights bubble up.)
---
30 Aug - heard Oliver Wang on NPR's Morning Edition reviewing Kanye West's sophomore release... Oliver sounded pretty good. His content was fine, as to be expected. He's a pretty good writer. His criticism was balanced. He aknowledged the weakness of West's vocals (and real-life ego), but praised much of the album's content and lush production. In the end, Wang thought the album fulfilled the promise of West's debut release. (Although, I found his transition from criticism to concluding praise was a bit abrupt. Perhaps, he had to edit his comments to keep within a time limit.)
Meanwhile, I was pleased to hear Oliver's voice wasn't reedy or thin-sounding. He sounded rested and had enough resonance to fit in with the NPR sound.
---
23 September - High Zero festival, Theater Project, Baltimore, MD... Performers included Jay Kishor, Tatsuya Nakatani, Audrey Chen, and Spencer Yeh
---
24 September - Le Tigre, Ceasefire music festival, Washington, DC
---
28 September - Polysics and Limited Express (has gone?), Talking Head, Baltimore, MD
---
5 October - dropped off some leaflets about this website at the APA studies institute at NYU. (Hopefully, they'll be distributed to faculty and students)... and then walked over to the new Giant Robot store in the East Village. Serendipitously ran into co-proprietor and Giant Robot magazine publisher, Eric Nakamura, who was there for a 2-hour layover on his way back to L.A.
---
9 October - saw a trio performing on Chinese traditional instruments (flute, yang-chin, and er hu) at the Pacific Mall in Markham, Ontario. They were followed by Chinese (Mandarin) storyteller/rhymer accompanying himself with a wooden clapper. (I guess you could call it original/traditional Chinese rap.)
---
13 October - caught the last 15 minutes of No sleep til Shanghai, a video of an Asia tour by Jin Au-yeung (a.k.a., Jin tha MC). This was screened at the E Street Cinema in DC, part of the DC-area APA Film Festival.
Jin arrived before the video ended, and then answered questions. Pretty engaging fellow. Definitely sounded like a man of the street (Bronx? Brooklyn? Joisey? accent), whereas the questioners oftened sounded like mainstream yuppies.
Then I migrated over to Club Daedalus, to catch Jin's act, live. All I can say is, the guy's got juice! He proclaimed his love for hip hop, several times, and even covered a Fresh Prince oldie.
I'd like to see him mix it up a little, change the tempo from time to time... toss in some change-ups. (I found the uptempo intensity of his act wore me out after a while.)
---
17 October - After the concert, Norman Mineta, Secretary of Transportation, and his party passed me by in the corridor, as I was leaving the Kennedy Center concert hall. It happened too quick for me to whip out my point-and-shoot camera. It's been quite a few years since I've seen Mineta in person. He seemed to look the same. (Make-up?)
I think his party (including his wife, I suspect) was headed to the backstage to congratulate the composer, Tan Dun, and Shanghai Symphony conductor, Chen Xieyang. The 125 year-old orchestra had played works by Bright Sheng, Guo Wenjing, and Tan Dun. (Plus 3 encores, of which the last one was a Sousa march.)
Of course, I could be wrong... maybe the Mineta party was heading to the garage via a secret passageway for VIPs.
---
25 October - Green Milk from the Planet Orange, Talking Head club, Baltimore
---
29 October - I got lost trying to find the Korean United Methodist Church in McLean, Virginia. When I arrived, Jinny Kim was doing her second to the last song. She sounded good. (But I reserve final judgement, because I only heard 1.5 songs.)
Koo Chung followed with his stuff. He sang with passion and his sound was fine, but it didn't always grab my ears. There were some interesting moments, though, like when he was starting one song by detuning a string or two while strumming... After the music ended, I dropped off a website leaflet with their manager, Esther Chai. (She seemed like a no-nonsense type.)
---

or...