Go to:
27 May 2003 - Went to the Velvet Lounge in DC to see 2 bands play at a fundraiser for the DC APA Film Festival. They were Astropop 3 from the Tidewater area and Temporary Basement from Northern Virginia.
Astropop 3 was up first. The songs were by Dan Villanueva, who played guitar. Keith Vanetta played bass. Wendell Nicholes was outstanding on drums.
Temporary Basement was a newer group. Their drummer had a fancy drum kit, with an elaborate scaffolding suspending his cymbals. The problem was that they had a noisy, incoherent sound; none of the parts seemed to blend with each other.
Now, noise can be effective if it is shaped or controlled. But TB's set, this particular night, sounded like sonic gridlock.
---
08 June - Caught the last day of an exhibit at the Baltimore Museum of Art. It was some of the art collected by and belongings of the late, great cellist, Gregor Piatigorsky. It was a small exhibit. The centerpiece had to be his Stradivari cello (made in 1714), known as the "Batta-Piatigorsky" cello.
It was a real treat to see the exhibit, as I'd admired the guy ever since I'd read his hilarious autobiography many years ago.
---
14 June - At a party in Northern Virginia, I talked with a guy who works on the NPR (Nat'l. Public Radio) website. He said that the site is ready for an overhaul, based on some new direction yet to be determined. According to him, a key question in revising it is, 'where do they want to lead the visitor?'
I should ask myself the same question with regard to this site.
---
15 June - After seeing a movie called Japanese War Bride (1952) starring Don Taylor and Shirley Yamaguchi, I visited the ceramics exhibit of her former husband, the famous JA sculptor, Isamu Noguchi. One of his pieces was named after and inspired by her most famous song, "le Lai Chian."
According to the caption, the Chinese-language title is supposed to mean 'fragrance of the evening' (referring to tuberose blossoms). She had recorded the song in Chinese and Japanese. (No indication of when the recordings were made, but given the fact that she sang it in the two languages, it was probably done during WWII, when she lived in Manchuria, where she had been born.)
To quote from the caption about the actual sculpture: "In Noguchi's tribute to her performance, he avoided a literal representation of Yamaguchi or the flowers, generating instead a cluster of ceramic stalks that appear to sway with mesmerizing effects."
---
21 June - Hiromi... Wilmington, Delaware... Clifford Brown Jazz Festival - with drummer and bassist, she mixes funk with the stylings of Chick Corea and Oscar Peterson... what chops!
Philip Glass... Columbia Arts Festival, Columbia, Maryland - not a great virtuoso at the keyboard... seems to excel in twiddling his fingers... but how often does one get the chance to hear a well-known composer, like him, perform before a home town crowd. (He grew up in Baltimore.)
---
29 June - Vienna Teng, Borders Books, Columbia, Md. ...sings and plays gloriously, but I'd like to see her dress in jeans and get a little funkier in her approach
---
30 June - BC Chinese Orchestra, "As It Happens", CBC radio... a little startling to hear this interview, rather unexpected. (What's next? An interview with Rice Paper magazine?)
---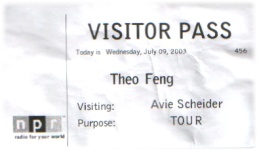 9 July - NPR, DC... visited Avie Schneider, who's a producer and editor of the National Public Radio web site... he was gracious enough to give me a tour of the NPR building, from stem-to-stern. We even got to see a portion of the All Things Considered news show being produced.

---
12 July - Library of Congress, Asian collection open house... met Nora Yeh, who's educated as an ethnomusicologist at UCLA and serves as an archivist and folk life specialist at the LoC...
---
15 July - "Hop Fu: Hip Hop meets Kung Fu", Millenium Stage, Kennedy Ctr., DC... Kolabz crew members, DJs IXL and Excess, spun and scratched in careful synch with an edited version of the kung fu classic film, Prodigal Son. Off the hook! (or Totally awesome! or Far out!)
---
17 July - Peelander-Zee, Velvet Lounge, DC... a trio of wild-and-crazy punkers (Japanese expats based in New York), who carry the torch passed on by Joey Ramone, but zanier. Unfortunately, I missed their performance... but I did speak with them, afterwards...
---
23 July - Thought I saw SecDef Donald Rumsfeld as I entered the Rayburn HOB (House Office Bldg.) at the end of the day. Was on my way to see a CAPAL (Conf. on APA Ldrshp.) session on the arts. CAPAL is this group formed for APAs that work on Capitol Hill, and during the summer, they have weekly after-work forums on various topics. (Mostly filled with summer interns.) Anyhow, back to the SecDef (Secretary of Defense)... Some VIP was being interviewed by a gallery of newsmedia folk, in the entrance foyer. I didn't stop to gawk, cause I thought it looked like "Rummy", and I didn't want to give the guy more attention than he's already getting.
---
27 July - Saw the following bands at the free annual Baltimore festival, Artscape:
Bering Strait - awesome talent playing a mix of country, rock, and more. For sheer variety of music and musicality, they can't be beat. I enjoyed them the most of all the groups. They played up their Russian origins in their remarks, although having been in this country for more than a couple years and with barely an accent to their speech (at least by those who spoke), you'd have to consider them pretty acculturated (to America) by now.
Los Amigos Invisibles - since I already had 2 of their recordings, I had an idea of what to expect... They play with retro sounds (lounge and funk that harkens back 30, 40 years), spicing them with updated beats and embellishments (keyboard synth pulses, latin percussion, and rapid tempos). Their set was almost all non-stop, nary a breather. They kept mining the same groove, a groove I really dig... but, just the same, the repetition got a little boring.
Afrocelt Sound System - supposedly the stage wasn't big enough to accommodate their drummer and bassist, so those members' presence was via recordings. I'm not sure if this was an advantage or not. This is a multiracial group that plays and sings ethnicized drone music with a dance beat... better for a rave or disco, than for sit-down listening. In general, they seemed overly fast, loud, and furious.
Thievery Corporation - they sort of resembled Afrocelt in their approach of mixing various instruments (including turntables), but the results were several times slower and just plodded along to a thudding beat... Somehow, they've garnered a buzz, amongst clubbers and press, so I was curious beforehand... All I can say is that I'm glad I didn't have to pay to see them.
India - this Latin ensemble headed by a female singer (stage-named India) played tight salsa (mambo, merengue, what-have-you) along traditional lines. While very polished in execution and stage movement, the group's performance suffered from a common weakness of traditional salsa, namely long stretches of rhythmic repetition.
---
3 Aug - While in a bookstore, I hear Louis "Satchmo" Armstrong singing over the PA. One of the songs is "Chinatown, My Chinatown". I suppose he was referring to NY Chinatown. (Don't think there was any such community in New Orleans, back in the day or even now.)
One of the books I buy is The Sound of the Ancestral Ship by Sean Williams (If you click on her name, you can find a 14-year-old quote when you scroll to the lower part of the page). It's published by Oxford Univ. Press (in 2001), and since I'm at a bookstore for remaindered stock, I get it for a drastically reduced price. (And it comes with a CD! Such a deal!)
Tonight, I was listening to "Booknotes" on C-SPAN radio. The author interviewed was Dorothy Height, a 90+ year old civil rights activist. She talked about her memories of Eleanor Roosevelt, whom she worked with closely on several occasions. She mentioned a few stories about the impact of Roosevelt on other women. And it wasn't just a domestic influence. Height told of a women's meeting 4 or 5 decades ago in Washington (or New York) attended by a group from Asia. Roosevelt spoke. Afterwards, one of the Asian women asked her how she had become a great woman. Roosevelt's explanation included a description of a conversation with her husband (FDR) in which he gave her tips on how to observe the economic conditions of people she visited as a representative for him.
Decades later, when Height was visiting Taiwan, a woman came up to her and talked about that day. She said that she had been the one who asked Mrs. Roosevelt the question that prompted the latter's reflection on observing a local community's quality of life. She said Roosevelt's remarks had changed her life and when she returned to Taiwan she became an advocate for the indigent.
---
13 August - Saw Jenny Choi and her Asians In Rock tour play the Velvet Lounge in DC tonight.
She opened, with herself on kybd and her hubby, Philip on drums (Their bass player remained in Chicago.)... Her new release wasn't ready for the tour...
followed by Panda Panda, Mia Park's new band (a duo)... Mia is the hostess of a Chicago cable tv all-ages dance show, called Chic-a-go (Chic-a-gogo?). She had a real fun way of drumming and posing.
next, Chiyoko Yoshida (ex-Sweeder) and a colleague backing her up... Chiyoko is a hapa who was active in the heyday of famous Chicago alt rock acts like Smashing Pumpkin, Liz Phair, and Veruca Salt. She would play these interesting riffs on the guitar with odd time signatures, and vocalize on top of them.
then, Creme Blush, another duo (what's with all these duos?) from NY... a Jpnz woman and a white American woman playing stuff derived from the 80's like techno pop, new wave, and a bit of disco. The relentleess pumping beat was a bit overwhelming.
finally, Suntan (not a duo), a trance rock quartet who recently moved from Boston to NY. The drummer looked like he was Filipino. (The others were white, or reasonable facsimiles.) Their music was repetitious and a little belabored.
The show had played NY, the night before, and Mia told me that the vibe in the club there, the Lyons Den, was pretty weird and not conducive to their performance. She said that the club's location was fine, but Philip thought that the interior layout keeping the audience far from the stage was the problem.
A whole different set of bands will be on tour in California, next week, except for Jenny Choi. (Maybe her bass player will join her for that trip.)
---
15 Aug - J Church and a short interview afterwards, with Lance Hahn
---
27 Aug - currently in Stuttgart (Germany, not Arkansas)... visited the Porsche Museum today and took an English-language factory tour... popped into a music (chain store called WOM or World of Music)... Can't figure out who decides the top 30 acts... The music scene is somewhat constrained, here, in Germany, from what I can tell. Lotta American acts are promoted.
I got bombed at the Stuttgart Weindorf (27th annual wine festival), tonight. Tried different samples of local Rotwein (Trollinger, Lemberger, and Spätburgunder). It was opening night and the area was packed at 10pm. There were some musicians entertaining the customers. A half hour later, things had thinned out.
As a dare to myself, I dashed over to the West End to the Merlin club to catch the last 10 minutes of a sort-of neosoul act. I could see that some in the audience were grooving to the rhythm, but I found the band to be merely competent. Couldn't get excited over the music.
---
28 Aug - dropped by the Merlin club, again, tonight, but arrived after the act (an electronic trance/drone duo) finished. Went up to a guy peddling CD's and distributing postcards, and started a conversation in English. It turned out that he was a radio programmer at the community radio station in Stuttgart, Freies Radio für Stuttgart (99.2 Mhz or FM). Cowabunga! We had a great conversation, as the station seemed to closely resemble the Pacifica station I'd spent years at, WPFW 89.3 FM (Wash.,D.C.).
One thing I wanted to know was how they get much of their funding. They get some money from the state (or federal?) broadcast tax, levied on citizens who own radios and televisions.
---
Ululate your comments and questions to aa_music@myrealbox.com
or...